Make The Most Of Your Network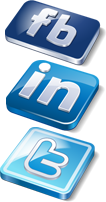 With Fission's Social Media Tools
While social media opens the doors to new ways of reaching your target audience, the potential drain from micromanaging them can't go unaddressed. Fission's social media tools allow you to link all of your accounts from popular social sites like Facebook, Twitter and Linked In to one access point on your website.
ADVANTAGES
Link multiple Facebook, Linked-In or Twitter accounts to your dashboard
Update all of your network's status with one click.
Highlight news articles instantly and post them directly to your feeds from a single location
Anyone can become your friend, fan, group member, etc... directly from your website!

This feature is perfect for blast announcing promotions, updates, calendar events, press releases, and whatever else may suit your company's needs. Increase your presence on the web and get your site noticed!
Need Help Setting Up Your Social Network First?
Talk to your account manager about our Social Media Package. We'll handle the account set-up, custom skinning, creation of any necessary pages and callouts on your site and then train you on how to keep it updated through your websites Social Tools.
If you are already on the Fission Web System, setup is easy. Get in touch with your account manager to add the functionality to your site today.

Not powered by Fission? Learn more about the powerful features you are missing out on.
Not ready to move your entire site to Fission, but you still want to accept donations online? Our simple site solution branded to match your current site is just what you need! Contact us for more information today.